Pictures and Stories from
1998
Wilson Creek , NC.
Sunday Jan 18, 1998
Alas, another Manly Man Winter Camping trip. Lee and I were the first one's up this year. We left Stsvle about 9:30am. Lee's got this nice new truck that he wanted to take up. My first task was to take Lee up to our spot, drop him off and return to Stsvle for an afternoon skating party with Christian. On the drive up in the morning we ran into a lot of rain. So much so that Christian was worried that it was going to be flooded at Wilson Creek. By the time of my return trip that evening it had started to clear up for the weekend.
Upon my arrival back at camp I was greeted by the gang. It was great to see everyone again this year. It seems that this is about the only time that we get together anymore. This year we changed Leonard's name to Dale. From here on out everyone calls him Dale. We had a total of 28 people that showed up this year. We later learned that we have to better manage who is invited to join our group. More on this to come later.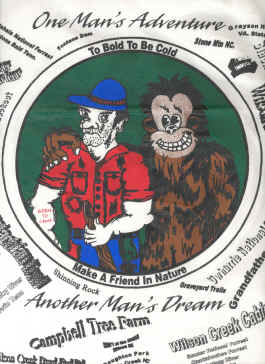 His year we had two items for the apparel. The first was a T-shirt in color and also a Sweat Shirt in color. We put all of the places that we have been in years past on the back of the sweat-shirt. We added the "One Man's Adventure" "Another Man's Dream".
On Saturday a small group of us went out on Saturday went out in search of Upper Harper Creek falls. After an afternoon hike upon our return we came across about 12 wild turkeys. It just so happened that I was going to have deep-fried Turkey for supper tonight. I got a new fryer for Christmas. While I was deep frying turkeys Bill was smoking Boston Butts for dinner. Needless to say our dinner this night was great.
We had another fight on Saturday night. Dean a guest of Mark Gaither, got out of control to the point that he pulled a knife out on someone. A couple of us jumped in to smooth the issue out. At the same time someone else was not handling his mouth very well and became a throne in our side. While some were trying to sleep, he would play his stereo in his van real loud. Unfortunately some of our old members such as Ray and Harold said that they would not be back because things just got way out of hand. I hope that we can get past this.
After the campout was over and we were preparing to leave on Sunday the Elders agreed that in 1999 nobody new could join us. We also wanted to find a smaller location for our next trip. We need to do something a little different.