Pictures and Stories from
1986
Little Lost Cove Cliffs / Wilson Creek
Please click on the photo of an enlarged version.
On this Trip to Wilson Creek, David Piatt and myself stayed at the top of Little Lost Cove Cliffs. This weekend was no different than many of our camping trips. It Rained and Rained. At one point we had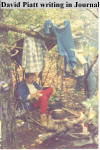 a break in the weather so we were able to hang some of our clothes out to dry. On late Saturday evening the clouds broke up and we found ourselves above the clouds. David is writing in our Camp Journal. This is a practice that he started back in 1985 on a backpacking trip to the Nantahala National Forest. We are still doing on all of our trip today.
This is the picture I got after the clouds broke from the top of Little Lost Cove Cliffs.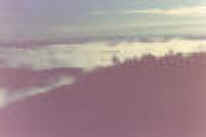 This is a picture of the foliage around us and the clouds that we lived in until the clouds broke on Saturday afternoon.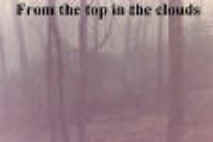 "We are sitting looking out the "Window of the World" what a beautiful, Panorama. The drive through the woods was exquisite. Never fear when Mr. Campbell is at the helm. We have a nice fire going and the campsite is perfect. All is well with the world. As we approached this place I could only think about our Friends who would be overwhelmed with the beauty, but would be over the trek to get here. Jim said it was about 1/2 mile up the trail. I think it was more like 3 miles. But, again when you are 40 years old your judgment has also been impaired. This morning as I was preparing to leave my mother said "I can't believe you are going out to sleep on the ground"
I can actually see the back side of our friend "Grandfather Mountain and Hugh Morton's Viaduct Bridge. We are just beginning to hear nigh sounds David Piatt