Pictures and Stories from
1991
Wilson Creek, NC.
The Picnic Table
Jan 12
Our trip started out in the rain and cold with Harold, Phil Elmore and myself in my old panel van. Raymond, Alex and Paul from Raleigh were following along behind. Of course when Ray got to my house he had to ask Sandy all about last years trip and just how wet her butt got from me sinking the Jeep. Thank Ray. Anyway this trip feels no different than any other. Rain and a chance for more rain.
Along about 9:00 Arlie, Bill Abel and Super Dave arrive to give us enlightenment for the evening.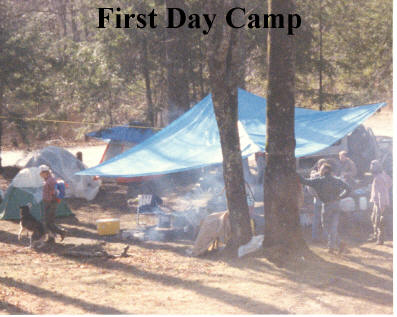 Come Saturday morning we awake to a clear cold morning. I find that again someone is sleeping in all of their clothes. Phil did not come prepared with a good sleeping bag so he was cold all night. Super Dave brought repelling gear so it is our intentions to head up to Lost Cove Cliffs, if it warms up just a bit, and get some time in on the ropes.
Arlie going over the side.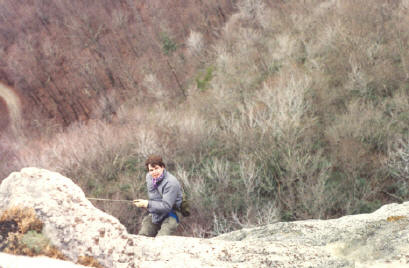 Raymond feels like he is in his element. I'm not sure what element that is but at least his is tied on.
When we got up on Sunday morning we had a light dusting of Snow and it was very cold again.