Pictures and Stories from
1993
Uwharrie National Forest
Troy, NC.
We have decided on a half-way point for everyone this year. Only we find out later that this is not what everyone else wanted to do. Raymond and some of his group from Raleigh decided to go on up to the mountains. I don't think that we will try something like this in the future. I missed seeing everyone else.
Twelve of us converged on these National Forest lands for our two day annual winter camping trip. The surprise came when we saw this truck and trailer come through on the road.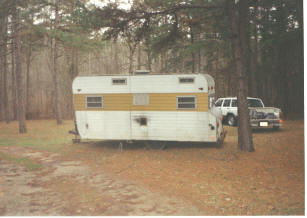 Our first thoughts were that someone had gotten lost down in here. Next thing I here is someone's voice, somewhat familiar instructing the driver which way to back up into a slot cleared big enough for this small 8 X 12 camper. Some of us walk to the other side of the the camper were the person is barking orders and how do we find but Preston Brewer. What has happened is that Arlie and Preston have taken this old broken down trailer, fixed it up and brought it along on this trip. I'm glad that is is Arlie and Preston that brought the first trailer and not someone else. They have actually done a good job on it.
For the first night Dave will be paying the price for bring a Keg. I believe by Saturday morning he will be paying the price. We had a little rain on Friday night and Saturday morning.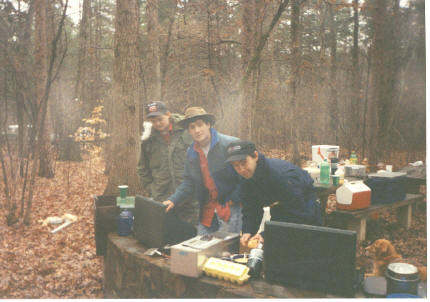 Bubba made some great Chili for dinner. He used Deer meat and an assortment of freshly prepared ingredients. It was great! Everyone is fartin a bunch around the fire. Bill is continually lifting his leg in relief. All we need now is the music from "Blazing Saddles". We spent the evening mixing drinks, telling stories and playing "Bones"
Arlie and Preston were laid up in their "Holiday Inn"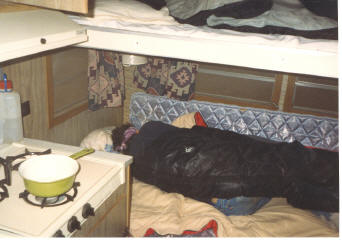 most of the weekend. They ate in there, they slept in there and they took there dumps in there. Don't sound like Manly Men to me does it to you?
On Saturday we found a great area to play football. Boobar tried her best to play. The only team she want to play on was the one that was opposite of Bill Abel. I think Bill was here key person for the weekend. When he was running she was going after him.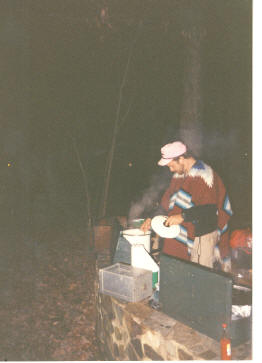 Max enjoyed the weekend also. With Boobar around he was able to get him a little bit throughout the weekend.
This will be the last weekend I will go camping before I am a Dad. Sandy and I are expecting our first child in June. She know 20 weeks, the half way point.
By the way, we will have a new president in three days. Bill Clinton will take office on the 20th.