Pictures and Stories from
1994
A Frozen Wilson Creek , NC.
Jan 22, 23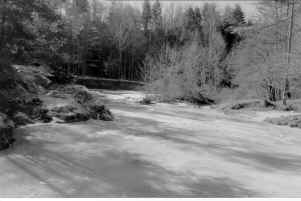 All week long people have been saying "You guys must be crazy to be going camping in this Weather.
We just ended the weekend of a record breaking cold for the entire northeast to Florida with record temperature in this area of -18 in the mountains to 4 degrees in the foot hills to Raleigh.
Friday as we set out, the temp was about between 29 and 30 degrees and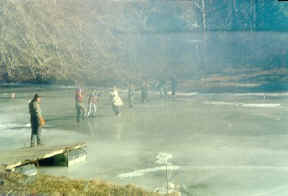 cold at night. Fourteen people from Statesville to Raleigh brave the slickest roads in North Carolina in search of their winter get away. This is our 11th annual winter camping trip. Raymond brought a great group of friends from Raleigh. They included Kurt, Ed, Mario and Derk, a hard core outdoorsman. Brian came up with Bill. You will remember that Brian "Likes a little Dick" now and then. He missed last year because he was so embarrassed. It took be three hours to bet Bubba, Morris and Dave together. Arlie, Harold and Corry came up together. This is Morris's 1st time along on the winter trip. What a way to break him in.
The road in is ice packed and vary treacherous. You have to remember that this area is backwoods and does not get a lot of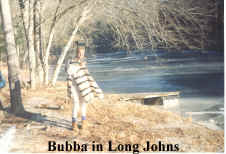 attention from the Department of Transportation. As soon as Sandor got out of the of the Van he slipped and kissed his head on the hard ice packed road. My understanding is that he has been doing this a lot over the past couple of months. It will eventually earn him a football helmet at Christmas.
This year we have camped at someone's summer vacation lot right on the river. Wilson Creek is completely frozen over.

None of us have ever seen this before or since. All of us decide that this may be the only opportunity that to cross over Wilson Creek and investigate the other side. It just so happens that were we are camped is a long cable from one side to the other. We all decide to walk across the ice. At one point 10 of us are on the ice at the same time. We all heard the ice crack and we all immediately jumped for the cable to get our weight off. Later in the day we went on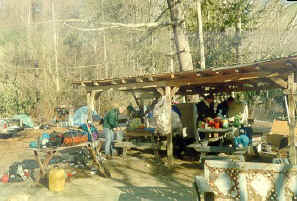 an adventure in search of the Sawmill or Raymond sock factory.
Written by Raymond Lewis
I have just read some of the highlight to everyone from our past excursions, Alex didn't make it this year claiming to be sick. I hope it isn't the dreaded P.W. blues that happens to most married men. I have tried my best to enforce Alex's 'fire code - Don't burn the logs in half' however, I must admit, it has been fun burning logs in half and not being fussed at.
Mario and I drove around some today. We went to Coffey's General Store and Post Office. The roads are slickest I've ever seen them. Last night it was 12 degrees when we all crashed. The gang all had deer stew for supper and I must say it was outstanding. All of the old gang is here (except Alex). This is great, Kurt and Mario seem to be enjoying themselves. They are first time winter campers. I hope that they can come back next year. I thank that Mario has had the hangover of the weekend, Bubba has the injury of the weekend accomplished by falling on his face, followed my Morris that cut off the tip of his finger will preparing meat for the stew. I wonder if we will find it? Of bu the way I remembered to stay sober for the first campout ever. Raymond Lewis
What a great way to do up a weekend. Good friends, good times and Mario passed out. I remember the first time my pu... hurt too Mario! They are all a great bunch of guys. Next year we'll all hike to Lost Cove Cliffs and raise a little hell.
Statesville and Raymond Thanks for the introductions. Dirk Smith
Well it has been a killer Weekend. It's about 10:00pm on Saturday evening and the camping excursion is slowly coming to an end. Kurt and I arrived yesterday at 1:50pm. We had quite an adventure trying to climb the narrow and Icy roads up here but, we made it in one piece. Last night we had a few beers and passed around shots of Jim Beam. I was the SELF appointed DJ, playing tunes out of Kurts CD player in his truck. Everything was going along just fine until I played a CD from Madonna. Then all hell broke loose. I managed to survive it all. The guys were all really cool this weekend. I look forward to next year. Mario Hernandez