Pictures and Stories from
1996
Wilson Creek , NC.
Jan 20, 21
Well Bubba, (I mean Mr. McSwaim) is at it again. Since our canoe trip Bubba has moved up into high society. He gave up his singing career and is now a moon-pie magnet and is living in North Raleigh. I hope he remembers the "little people"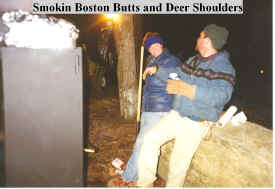 Bill fixed venison and pork for everyone for supper tonight and as usual it was outstanding. Greg brought up his big cooker along with a load of Hickory Firewood for cooking on.
This will probable me my last year as Kenlaugh is growing tired of these yearly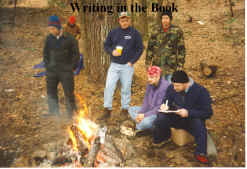 childish adventures. We got T-shirts this year, Jimmy will tell you more I'm sure. Kurt saw to it we didn't starve of freeze to death. All in all as usual this was a good trip.
The saga continues - must dash - starting to snow.
Ray Lewis 1/21/96
As Usual, a great week-end in the woods. Since this is my 4th Manly Camp out, I'm looking forward to getting my "Elder Status" & losing my "Junior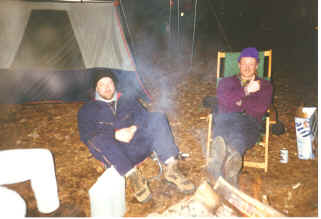 Status" All in all, things went great. Next year I need to Drink on the other side of the BREVARD FAULT. Good stumbling. Until next year!
Dirk Smith
I guess the Third is the Charm, I'm Hooked ( I want an Elder T-shirt) Great bunch of guys and a good time each year. See you next year.
Kurt Reichstein
My Second Manly Man Camp. Won't be my last. See you next year.
Leonard Hood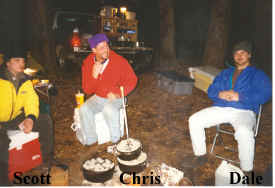 Of all the animals, these are the hardest to tame. See you next year
Scott Carawan
Alec Brown Manly man and Manly Campout Elder was here on the 96' campout
15 Cars later we are heading out after 46 hours of non-stop cold mountain wilderness. 25 to 30 grown, kids are heart, men are headin back to our world of reality. It was another wonderful trip with temperatures dipping into the teens.
This year we was the first year for t-shirts. Mark Martin (who could not make it because he is eating Crow) along with Greg (Greg is the actual artist) designed our logo. Lee gave us the idea for the wording "One Man's Adventure - Another Man's Dream" Ray and Myself established the first year for the "Annual Man Winter Camping" You will notice that this name changes in a couple of years and becomes a mainstay name. Ray gave it this first name way back on the river banks. I believe that it was the year of the steel bridge.
We had a few first timers this year, Clark Ireland, Scott Carawan, Chris Ritter, Page Spoon and John Morris.
This year we developed the Elder group.

These include all of those that have been camping on the past winter campouts. Ray Lewis, Jim Campbell, Bill Abel Jr., Arlie Brewer, Lee Head, Sandor McSwaim and Harold Yount (who did not make it this year) It had been discussed that all non-elders be assigned to duties and request made by the Elders next year. Do you think that will work?
On Saturday a group of us went in search of a new area to camp. We left Bill to tend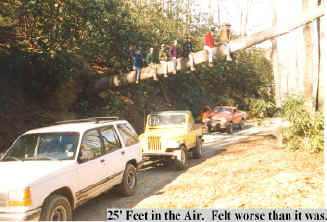 to the Bar B Que. What we found was a place to shoot guns, in the valley below Little Lost Cove Cliffs. Boy did they shoot and shoot and shoot some more. Lee's ear's were still ringing hours later. On our way back we found a fallen tree. We all climbed on top to get a group picture. It was a feat just to get these guys on the tree. Everyone was afraid that it would fall.
One of the things that we have found so interesting are some of the things that Greg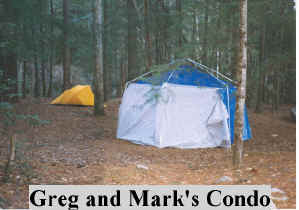 and Mark tend to bring each year. I have a picture of their "Condo" that is wrapped and ready for the cold.