Pictures and Stories from
1997
Wilson Creek , NC.
The anticipation has been building all week. With family and friends giving everyone grief for going camping the very coldest weekend of the year. With 5 Blizzards in the Central North and Extreme Cold warnings in the NC mountains. Currently at 5:30 pm it is 19 degrees and falling. The forcast calls for 7-9 degrees with a wind chill factor of -10.
Our Virgins this year are Matt (Brian's friend) Ken Messinggale and Victor Joyner from Raleigh. In the Journal Victor wrote a piece that very much sums up what all guest have to say about there experience on the AMMWCT.
I've been trying to come up here for 3 years and finally I made it. Damn glad I did becuase this was and experience that everyone should go through at least once in their lives. It was a great adventure and I'll be back again. Victor Joyner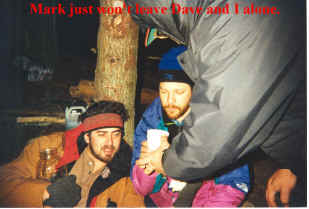 This seems to sum up everyone's experience by the end of the weekend. This year the Elders created the Jr Elder status. These are for people that have also been on many of the the past winter camping trip. More details about Jr. Elders will be unveiled in the years to come. This year Corry Fox and Clark Ireland have obtained Jr. Elder Status. Currently they are the only Jr. Elders.
On Saturday evening of this year Lee decided at about 9:00pm to pack up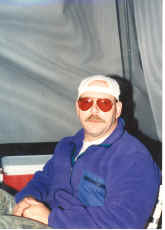 his toys and go home. We find out later that he finally arrives at about 2:00am in Wilson. What a lucky man. This is a night that we had just as soon forget. Ray has completely quite drinking and one person in general has been giving him a hard time. To the point of turning his car radio on full blast when some of us were trying to sleep. This weekend is a turning point for our Winter Camping trip for the next two years. After this weekend we decide that no new people can join our group for at least two years.
Not much of a writer, but figure I should put in a word or two. News forecast calls for butt-ass cold, same a past years. Temperature is only about 20 degrees but wind chill is expected to be somewhere in the sub-zeros. Keeping warm with cigars and liquor. Every year seems to add a little more comfort. knowing what to expect. Last year we struggled to find wood for a fire but it is a different story this year. Seems like everyone brought a truckload wood this year. Doesn't look like wood will be a problem this January.
8 tents, One pop-up camper and about a dozen vehicles encircling camp like a bunch of Indians. Our group seems to get a little larger each year. These are some great people. I look forward to each year.
Arlie Brewer
Well we finally had to have a real fight. This time between two close friends, and people just acting generally like asshole. Pretty much messed up the whole trip. Bunch of Selfish assholes. Oh well! At least we had a few good years - So Long, By the way this is my last year.
Ray Lewis
4:02am
Harold and Ray have said "The Group has gotten to Big" Well I've had 5 good - No, Great years ... Keep the Spirit
Dirk Smith
9:00am (Sunday)
What is 'To Big' when you are out having fun with friends and meeting new ones? As usual, I had a great time. I was a little cold, but with the right equipment, who cares? Really trashed the place this year. Guys are just starting to roll out of bed. Got to start breaking camp. Take Care.
Kurt
The comfort zone gets better each year with new equipment and friends. The manly camp is full of surprises If you haven't seen Dog's (Dirk) outdoor toilet you've got to see it next year. Look forward to next year definitely. No Problems my way.
Leonard Dale Hood