Pictures and Stories from
2000
a new Millennium
Wilson Creek Gorge, NC.
1-20-2000 10:pm Thursday before the big weekend.
New Year, New Decade, New Century and a New Millennium. As I sit here and prepare for another Manly Man Winter Trip the Moon is about to be eclipsed by the Sun in a "Lunar Eclipse". We had snow on Monday and again on Wednesday. We are expecing 6" when we get to the mountains. The forecast is for snow again on Saturday. Boy, are we in for an adventure. Dale Hood, from Raleigh, called last night what a nice surprise. He is going to join us this year. We are expecting about 20 people this year. I'll keep you posted.
____________________________________________________________________________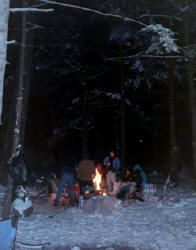 At last the big day is here
As seen through the eyes of Lee Head
Jan. 21, 2000
Picking up Leonard was a trip in itself. After 1 hour plus I finally found him. By 8:25 we were at Jimmy's and all packed and ready to go. Four stops later, which is nothing unusual for us, we are finally in the mountains
Jan 22, 2000
""Cold"" after breakfast some went here and some went there, then the snow started fallin and fallin. It was absolutely beautiful. And, then two Game Wardens and a Ranger came to visit. They could not believe that we were out here. The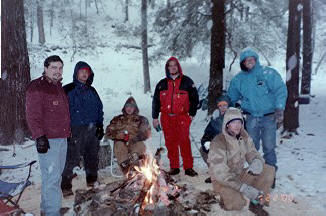 advised us to expect real bad weather. They were expecting six inches and ice. Chili will be ready real soon. Not a better group of guys in the world to be in the woods or the snow with. Lee Head
It is snowing, wet & cold. The dogs are in the tent and we are outside. Who said Dogs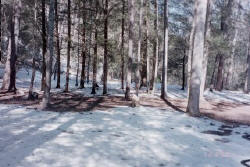 were "dumb" This is my first Winter Camping Trip with Jim and the group. I've had a great time The cold is making this writing a mess and I am shaking all over. We took a beautiful trip this afternoon through the mountains today. We hiked up to some cliffs in these mountains. The views were breathtaking.
Going to keep warm tonight and head out early in the morning for a hot meal. Dad joined us today and is having a great time. See you next year. Cameron Fraser
--------------------
It was a great drive in on Friday. Patches of snow here and there. It appeared to be packed on the road but we did not have any trouble. When we got to the campsite there some wonderful clear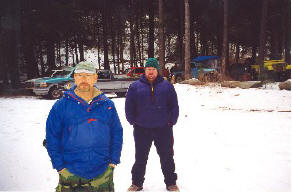 spots to set our tents up. Almost as if snow had melted and the ground dry in just the right spot. This would not last long.
Morris did something we had never seen before. He brought up a big roll of Shrink Wrap. He decided that he would make him a "Shrink Wrapped Room. He took this big roll of shrink Wrap and went around about 5 trees. Around and Around he went. Then he put a 8x10 tarp over the top. I guess he thought that he would have a pretty tight room. We on Friday night everyone avoided the "Shrink Wrap Room" as if it had the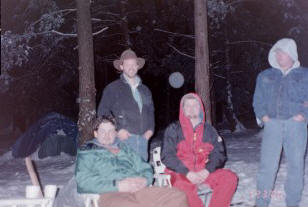 plague. Lots of jokes about his little room that he was so proud of. He didn't care if they did not want to come in. By Saturday night when everyone was looking for shelter from the wind, he had lots of guest. You may be able to see parts of this room in some of the pictures.
Saturday was a great Drive up to Little Lost Cove Cliffs. It started snowing hard as we made the trek across the mountain range. By the time we got to the trail there was probable 6"inches of snow and growing. The drive through the snow was easy by the time we got to the top of the there was 8" inches on the ground. Cameron's dad, Tim and the dogs joined in for this part of the camping trip.
After the hike out we headed home and came across a house fire. We were the third vehicle on the scene. We did what we could to help.
When we got back to the camp Clark had a fire going in a barrel. This was a great
way to get up close and personal with the fire and warm our hands. As the night wore on Corry said that it sounded a little like Blazing saddles around the fire. Right know there are about 16 of us around the fire. We lost 5 because of the snow. We had a few girls come up for the day. They included Dan Sweeny, Mark Martin, Greg Price and Ken Massingale.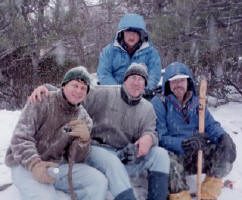 They made the hike up to the top of the mountain but then decided that the snow was too much for them and decided to return home. We have decided that when the Tuff gets going, Mark and his guys gets gone.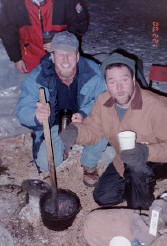 This is Bubba's last trip before he gets married. April 1, 2000 is the date that he and Kim will tie the knot.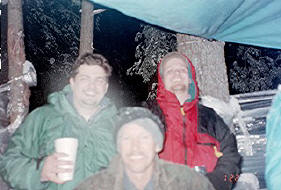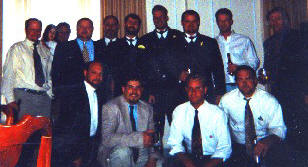 As I have stated in the past one of the duties that has been assigned to the Jr. Elders is to organize and plan for the apparel for the year. This year Corry Fox took on the responsibility. He designed and delivered a great piece of apparel this year. The AMMWCT cap. Embroidered with our logo. It is something that is treasured by everyone.
The guys above are those that were at Sandor and Kim's wedding.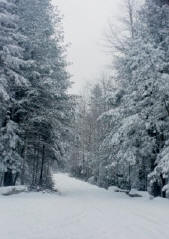 A parting shot as we prepare to leave on Sunday.