Pictures and Stories from
2006
Curtis Creek, NC. (near Oldfart NC)
Directions: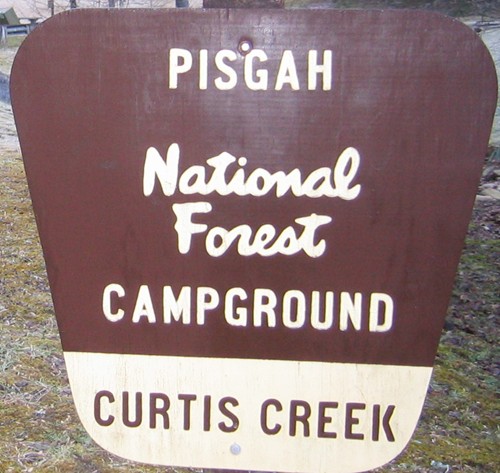 Access: I-40 west to exit 75 (at Shuckeys) Turn right @ end of ramp. Travel about 30 feet to Stop sign and turn Left. I believe this is Green Lee. The campsite is 5.8 miles on this road. Continue to travel on Green Lee and it crosses Hwy 70. When you cross 70 @ Stop sign the road becomes Curtis CreeK Rd (SR1227) it is 4.6 miles to site. When the pavement ends you have 2 miles on dirt road to go. You will see a sign along the way that states that the "State Maintenance Ends "The road stops at the gate and the campsites are along the road.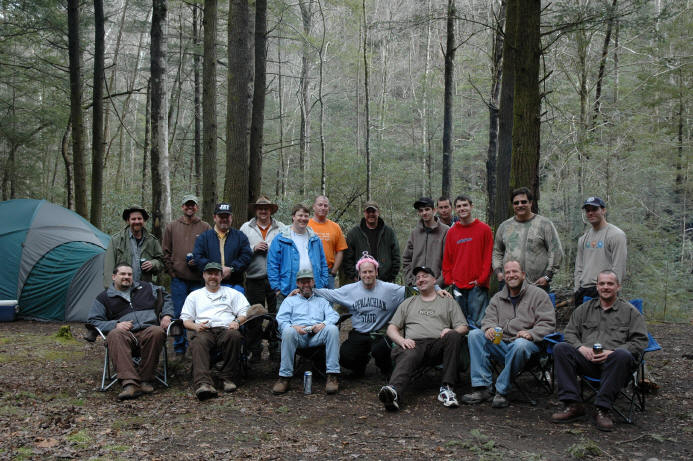 This was a Dutch Oven Weekend
Jan 19, 2006
This year we went to an entirely new place. Our attempt was to get away for Office Keaner. We succeeded, I guess. Even thought we found out later that it was still his territory.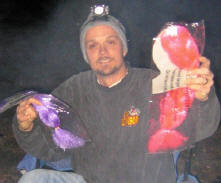 The Elders arrived on Thursday and started camp and preparing for out Elder meal along with our annual powwow. The main course for the evening was Chicken Teriyaki, Fried Okra, Fries/Chips, Pork Rhines and Deep Fried Candy Bars. The main topic of the evening was how we were going to induct Cameron in as an Elder. I'm sure he will enjoy reading about hour this all went and will reflect back on what we did to him. It was decided that we were going to "handle" Cameron from the moment he woke up every hour something would be handed to him and he would have to wear it for the remainder of the day. It included Pom Poms, a Tierra, purple hair (since he did not have any, a result of getting married), and Pink Pigtals, He did not have anything to attach them to. We had a load of wood delivered for the weekend. That was a nice treat. We cooked good and we ate good all weekend long.
Friday Jan 20, 2006
After an attempt to ride a bike along the Curtis Creek road to the top of the mountain along Curtis Creek I headed back to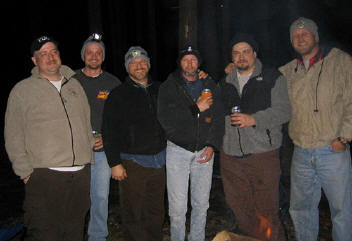 camp. What took 2 hours to accomplish took 30 minutes to undo. I saw a lot devastation from the flood two years ago. When I got back to camp Arlie was making a special breakfast in Dutch Ovens. We just bought these this year for the group and we have lots of special dishes planned for this weekend. Anyway Arlie was making a Breakfast soufflé' (thanks to spell checker), that consisted of Bread with the ends taken off, cooked sausage, eggs beat with milk and cheese, all in the Dutch oven and cooked for a short period of time. Boy was it good!. According to Raymond, we have all been invited to the hoedown in down town Old Fort. Ray meet the Mayor @ the Train Station during the day. He is so excited about going to this little shindig. He and Jay started planning early what they were going to wear. I think somewhere along the way besides trying to pickup some mans wife Jay got asked to dance by some old fart. It really was interesting. Groups from around these parts come every Friday night to play Bluegrass music. There were some really great groups. Most of the people there were old folks that put on there best outfit and go into town for some dancing. I believe use campers stood out a little.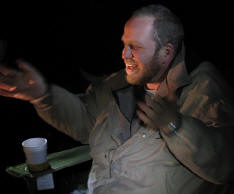 Bubba says that he is going to Dig us a Pit before the weekend is over. It's 5:30 and we have one hour before Raymond says that we have to go to the Hoedown. Dinner tonight is Beef Brisket, Broccoli & Cheese along with Corn bread. Everything was cooked in the Dutch ovens.
Other arrivals include Cameron, James, Tim Hollar, Time Fraser, Greg Pena and Clark
As seen through the eyes of Raymond Lewis.
It all started with an old postcard from the 30's and 40's that I saw from the town of Old Fort on the internet... I showed a "Giant Arrowhead" statue in the middle of the road. So Philip, Jay and myself went looking for - and found the giant arrowhead. Darned if we didn't find it. So we stopped at the museum to find out what the story was. This is when we were invited to the town hoedown by a guy who we were led to believe is the mayor of Old Fort.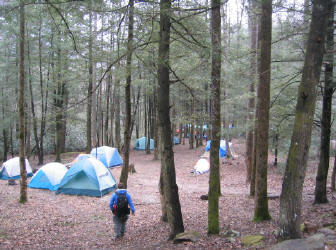 So while waiting for time to pass, Jay Philip and I went on a mission to verify the status of the Mark Martin Basecamp. We almost made it to the end of the road and the only further comment I will make is "as far as the gate at FR197 it wasn't me". Jim here for a moment. I remember this story know. In an attempt to get an update on the Mark Martin campsite. When they got to the gate is was locked. Upon and examination of the lock it could easily be removed. Once that was done. They started driving to the end. They were almost there when they crested a hill and low and behold some forest guys were there. Ray is shouting to Jay to get out of there. Jay did not know what the big deal was. "Let's go up and talk to them." Alas he forgot about the lock. Know back to Raymond. We returned quickly back to camp in order to avoid any suspicion and to get ready for the hoedown. Jim, Morris, Philip, Lee, Jay and I went to the hoedown. Everyone else made fun of us. Anyway there was a pickin some singin, some cloggin and JOCK-FLY was back in action. We met Sy (Jesse) the owner of a '39 Rolls Royce and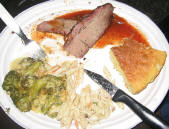 got our picture made and then some more music until we left at 9pm. CRISIS! Jim has lost his odra!!! In a desperate plea Jim tells me "Raymond I need to find my Odra"! Then for some reason Jim orders Bubba to dig a pit! I'm thinking we are having Pit cooked Okra!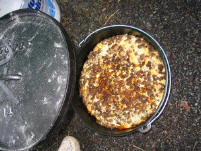 First for this weekend include the Hoedown, Big Ass Bell, Outrageous Soufflé, Dutch Ovens, Hauled in Firewood. It is always great for me when Richard and Philip can come up here and camp. They are now fully part of the group. It seems that this is the only time of year when we can get together as friends and not just father & sons. Hopefully when I am gone they will fondly remember sharing these times together. I know I will treasure these times. We have a good group this year. Cameron is going to be installed as a Jr. Elder on Saturday. Little does he know of the events we have in store for him. The food is outstanding this year as always. I just can't keep up with all that has been cooked so far, Keaner has not found us but the night is young. More later.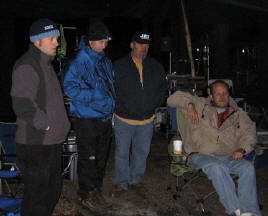 As seen through the eyes of Cameron Fraser
Came in late last night to Curtis Creek. Mostly familiar faces... got to see everyone again. Pitched our tent south of the main camp site - great area. Rained throughout the night, made for some great sleeping. Hiked to the washed out bridge from the flood today and took some great pictures along the creek. The elders called me aside and made me wear pom pom's through out the day. One was added at a time. Then a Tierra along with two pink & purple hair braids. I was given a urine bottle to drink from for the rest of the day. I was not allowed to drink from anything else. Little did I know what was taking place. It was quite embarrassing!!!! The group ended up inducting me as a Jr. Elder in a ceremony. Everyone was doing shots of Champaign and I had to get mine by kneeling on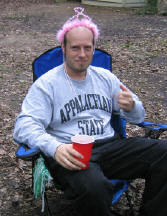 the ground and picking it up with my teeth not using my hands. While I was bent over trying to pickup my shot, Jim poured the remainder of the bottle of Champaign over my head. Damn! it was cold. Thought some what humiliating I am proud to be a part of this group. There is not a bad man among us.
Back to Jim.
Bubba You need to dig a pit.
Here it is Saturday night and I want to take a moment to sum up the weekend as of tonight. Jay spent most of our time at the Hoedown chasing after anyone that would listen to him, and that was not much. He ended up going home frustrated. At some point on Saturday he made a food run and all he came back with was something for someone else to cook (that's all I'm going to say about that, it's done, it's finished and I don't want to talk about it anymore.)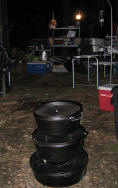 We did have some interesting things that were cooked in the Dutch ovens this year. We had a total of 4 of them from various sizes.
Thursday - Peach Cobbler
Friday - Egg/Cheese/Sausage Soufflé / Cornbread / Broccoli Cheese Casserole
Saturday - Soufflé / Sheppard's Pie / Roast Potato's Carrots / Apple Crisp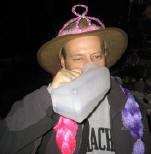 As stated earlier Cameron was elevated to Jr. Elder It started on Saturday morning when he woke up. He had all of those things that he had to wear or carry around for the entire day. The last thing he got was a Bed Pan. He had to drink out of that all evening long. We told Lee not to piss over the ledge and he would not listen to any of us. He swayed from side to side and the next thing we know he is falling over the embankment. It was a hilarious sight. The pit that Bubba dug was just to big and Lee fell in.
Sunday Morning through the eyes of Raymond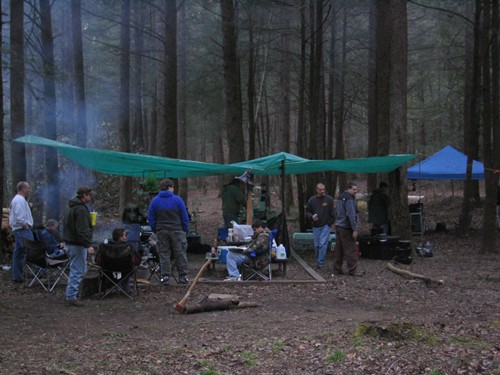 We we all awoke alive. Bubba has almost made it through the weekend w/o a head injury. Keaner never did show up. The only casualty was last night with Lee. He was there one minute then gone the next. Uh ho! Lee were are you. Oop! over the ledge he went. Bubba's Pit was just too big. He went down in the hole about 8 feet. Morris big turd was covered again last night. I hope he learned his lesson. If you want to know what I'm talking about you are going to have to go back two years and read the story. Cameron survived his induction to the Jr. Elders with great style. Great Food, Great Camping, Great Friends! Until next year - Ralph Boone