Pictures and Stories from
2007
BRHA (BlueRidge Horseman's Assoc
We are at a new location this year inside the Pisgah National Forest, Wilson Creek Backpacking area. We joined the BlueRidge Horseman Assoc this year. They have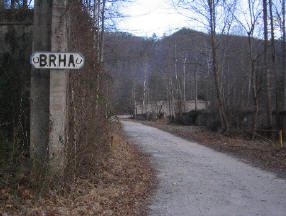 allowed us to camp at the horse camp in Wilson Creek. It is a great spot with room for everyone, trees, the river and seclusion. It was a great weekend as you will see from everyone's writings. If you have not figured it out my know we keep a journal every year. What a great idea that started with David Piatt so many years ago. We here goes the story as told through everyone eyes not mine. Some times I embellish the story just a little bit to clarify the intent, put as the Webmaster that option.
January 18, 2007 Year 24 of the AMMWCO
As seen through the eyes of Raymond
Sleet & freezing rain… that's how today started out! I had to meet the woodcutter so he could deliver the wood for us at our campsite. He wanted to get the wood here before the roads got bad so he called me at 7:15am. I was hoping it would
continue so we would be iced in, but since Bubba is not here this year, it is no fun to watch other people fall. Anyway it cleared up around 1:00pm and the rest of the guys got here between 3 & 4:00pm It' nice with just these guys for a little while. Jimmy. Lee, Corey, Arlie and Me. As I look around at all the guys & equipment we have, I think of how far we've evolved from an old canvas tent and Coleman coolers to more equipment than most third-world countries have. I truly miss our group and always look forward to seeing everyone. I have committed to seeing that the dishes are washed this campout, so I have established the dishwashing district at our campsite. Our dinner tonight will be: Enchiladas & Quesada's, deep-fried chicken wings deep-fried Spinach Rolls, Pickles, Green beans, BBQ chicken strips, Broccoli & Cheese, Garlic Bread and Apple Crisp. I guess tonight, I will be washing Dutch ovens all night. Being Jim's camp-bitch sucks.
My perspective
The first thing Ray did when he got here was to create "Ray-Land". An area that was totally dedicated to Raymond and his cleaning stuff. He is a great man-servant. He says that he has created this little hide-away to clean up after me. He promises to clean or direct cleaning if I cook all weekend. After we finished dinner we "Banished him" to Ray Land not to return to the fire until all the dishes were cleaned. The only thing he forgot was an apron, fuzzy slippers, something on his head and a house coat. "Someone please take care of getting these items for Ray in 08".
Ray again.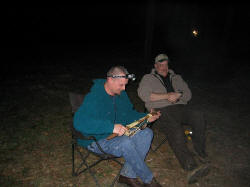 As I said being Jim's camp-bitch sux's. After dinner, we talked about the genealogy of Ralph Boone & decided to contact Jeff Corbett since he seems to be the point of origin for Ralph Boone. Jim is going to contact Jeff and see if he will give us a talk next year on the impact Ralph has had on Society. Jim seems happy about the dishes and how we cleaned everything up after dinner. Therefore, as day one winds down, the elder's pipe is out, the fire burns and the saga continues. It is time for the stories to start. Oh and by the way here is a link to www.ncfalconersguild.org.
Cameron showed up with a Utility trailer to camp in. We called him trailer trash the rest of the weekend.
January 20, 2007
The day started out well. Last night went pretty much as expected… Someone brought out a beer bong. That was a mistake. Morris was Morris as only Morris can be. He tried the beer bong and got it all over himself. Keith fell into the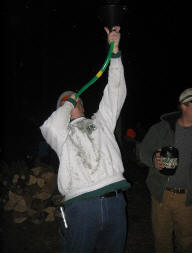 creek (because of Morris). The only surprise was Cory. We heard this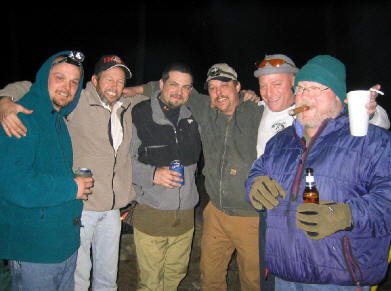 sickening thud and of course we all though it was Morris. As we all searched out the origin of the "thud", we found it to be Mr. Cory. He was aiming for his bed and he ran into a tree. He tripped over a log and because this is part of the Blue Ridge Horseman's Association land there is poop everywhere. Well guess what? He fell face first into a pile of dung. It was hilarious. Today there is still a dent in his head and something behind his ear.
Today Harold put a hiking trip together to Hunt Fish Falls. It was an awesome trip. Our plan was to do five miles.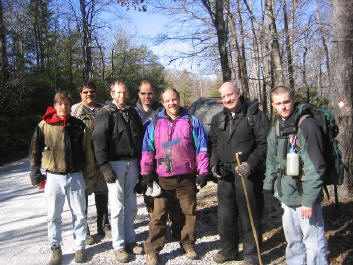 We only did about three due to the amount of daylight we had available. On our return I was very, very disappointed to learn that Jimmy has decided to leave tonight – FOR THE TIRST TIME in AMMWCO history, Jim has bailed early, I am disappointed (did I mention that). He says something about being a vendor at a Bridal Show on Sunday and having to setup all of the sound and lighting. I just hope you can have a good time knowing what you have done. It was good to see everyone and hope to see you next year.
As quoted from Greg Price
First time I have been back in the fold in two years. It's good to see all the boys again. Not looking forward to the ice storm tomorrow, but I will not leave for fear of having to wear a dress again next year. (This is Jim here- No ice storm was predicted, however Greg has been know to bail due to weather. The last time he did that he had to wear a dress at the Mark Martin memorial campout) I hear that Jim is holding a dress in the event that it is needed in the future. Jim is bailing out to do a wedding tomorrow. Maybe he should wear a wedding dress (Jim – Nah!) next year? Leaving is leaving but it's OK by be because I know he has obligations. Great place to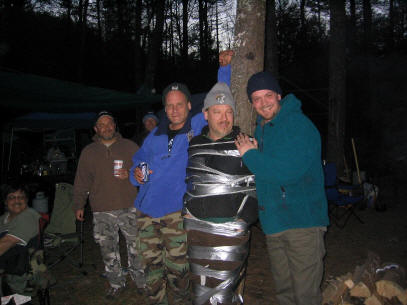 camp this year.
A little side note from Jim.
I am fully aware of the disappointment that everyone had in me for my need to leave early. At about 4:00pm when we came off the trail from Hunt Fish Falls I had a feeling to come over me with a strong desire to get home. Upon my return to home, I found that on this same day a family member was put in the hospital and it was a great relief to others that I had come home early. No phone call or anything just a feeling in the middle of the afternoon. Therefore, with that said, so many years ago when Mark, Greg, Dan and Ken decided to leave due to weather, I had the bright idea to make them wear a dress the next time they came. Therefore, you cannot steal my idea. Sorry people. Besides, I am the one that writes this stuff for the website. What do they call it "editor privileges".
Anyway lets get back to the story as Cameron Fraser chimes in with his perspective..
Here's Cameron
In the camping journal book, I have placed a wedge of Duck Tape as evidence of Jim's bondage! Corry, Morris, Harold, Mike and a few others (Jim – Yeah right, Don't put your own name down do yah even though I remember you having your whack at it) taped Jim to a big tree utilizing duck tape so generously donated by Ray. (Jim – I wondered where this stuff had come from) Jim initially struggled but quickly understood the outcome and became a model captive. The idea was to keep Jim taped to the tree all night and not allowing him to leave. In the end the group got him taped up and he could not move and settled on a few compromising pictures and then released him. (Jim – Yeah right. They never released me. They sat back and laughed as I struggled to get free.) The group threatening that we would fall apart without his leadership! Jim ended up passing the command to Arlie who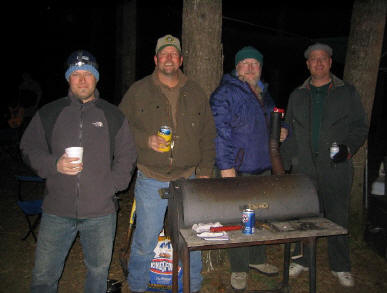 immediately announced anarchy.
Last night James, Bobby and myself went to Hawk's Rest ski resort to snowboard and had a blast. The temperature was about 19 degrees F with a wind chill of about 5, It was very windy.
The Jr. Elders prepared the meal tonight for the group. Clark prepared 3 Boston Butts for BBQ, I made baked beans, hushpuppies and deep fried candy bars. Morris prepared slaw, pasta salad and several sauces, Greg brought bread for sandwiches. The meal seemed to go over great. I am looking forward to next years 25th celebration.
This is a new guy on the block – Chris Gilliam
It has been a long wait but I finally got the invite and the chance to be a part of the campout. I have had a great time so far and I hope to come again every year.
Last put not least it is Philip Lewis. Son of Elder Raymond Lewis.
This year marks the end of the two-year hiatus of not having new campers; Therefore I decided to bring my best friend, Chris Gilliam. Since I came for the first time in 2002, Chris has wanted to attend. I hope he had an excellent time. Chris is the third Generation Camper. I hope that we are able to have the honor to carry on the tradition of the AMMWCT. I have had a great time this year, and wish everyone the best of luck and hope all of the Manly Men have an excellent year.