Pictures and Stories from
1989
Wilson Creek Gorge, NC
Jan 20, 1989 25 degrees.
This is the first year back for Raymond since he has gotten out of the Air Force. He along with Alex Brown and my brother Mike Campbell got up here about 5:00 in the afternoon. They found a solitude location behind a huge rock, right down on the river. Harold and I arrived about 2:00am. Everyone was still up and they had a roaring fire. Between the three of them they drank 2 cases of Beer last night. Of course the next day they were sporting a real good hangover. I have a little hike planned for the day. This should help with their hangover. We are going to Big Lost Cove Cliffs
Big Lost Cove Cliffs
Trail # 271 is a 1.5 mile hike trail that is closed to everything put hikers. The trail starts at the road about 1 mile north of the picnic table off of Road 464. It is a moderate to easy climb The trail follows along the Lost Cove Ridge. The hike takes you to the awesome view that are offered by Big Lost Cove Cliffs. There is a camp site in the woods just off from the cliffs themselves. The Cliffs offer a fantastic view of Grand Father Mountain and the Via Duct. This is also a great place to do so Repelling and Rock climbing.
View from the Top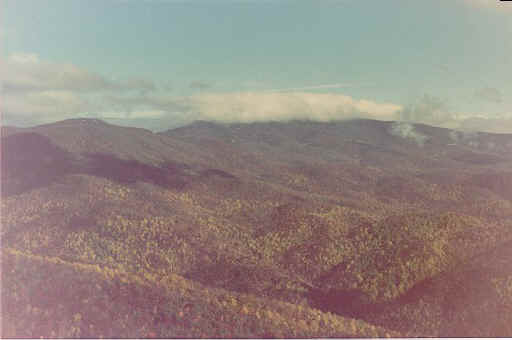 Our camping trip are starting to grow. As you read through the years please notice the amount of people that starting joining us for the Annual Winter Camping Trip. We have seen some awesome cooks on these trips. For this weekend I fixed Chili and Apple Cobbler. Raymond and Kenlaul are expecting his 3rd child. The are say that it will be a girl this time.
View at the Cliffs
In 1989 We also did a trip to Grayson Highland State Park. To read the stories and see the pictures please click on the Grayson Highland Link.