Pictures and Stories from
Our 2nd Trip
in
1990
Bubba's Slide, NC
Somewhere near Mt. Mitchell NC Bubba is taking us on an adventure into some woods that he said he hiked through as a young boy of 12 or 13. I don't think that any of us could tell you how to get there again. He said that it was just a little hill. Yea! Right, it turned out to be a steep mountain.
We all set out in Super Dave's old Brown work van. I want to take a moment to give you some back ground on this van. Because of some unfortunate circumstances every 30 minutes the van would cut off and He would have to blow into this small hose that would register whether he had any alcohol on this breath. This was a little piece of equipment installed by the State of North Carolina because of a bad choice in the past. Anyway, we were stopping all along the way until we got to our destination.
Our group was six stronger with Sandor "Bubba", Super Dave, Arlie, Preston Brewer Arlie's Brother), Harold Yount and myself. It is important to know that we also took my dog Max along. As we started out the elavation is 3300' and goes uphill from there all the way to 5200'. It was an extreme incline. We final found a place that we could set up camp. Of course with a nice fire the hard work is almost long forgotten. Bed came early for everyone.
About 3:00am Max went nuts barking inside the tent. We had to let him out. It did not take long for us to discover what he had heard. A little black doggie with a lighting bolt on his back. You could here Max after that running, dipping, trying anything to get the smell off. Needless to say we had to live with that all weekend.
The next morning we started our second climb. Somewhere along the way we decided it was time to get some shelter from the drizzling ran. We built what became know as our "Double Wide". Thanks to the ingenuity of Super Dave we have an excellent shelter.
It started out with a 5' roof and then angled back as a "Lean-To".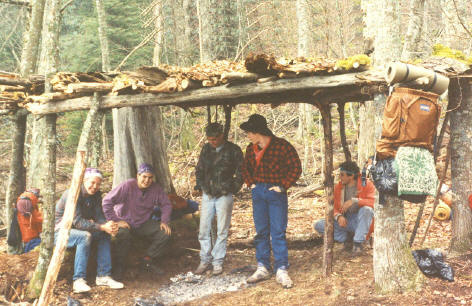 Dave sits back and admires our creations when he says "guys we need to add more to the roof of this thing." That did not satisfy him and before long we were adding a third roof. From above this is what the angels of the shelter would look like. Three long trees tied up with sticks thrown across them. Then to keep the drizzling rain out Preston and Bubba searched the woods and found Birch shingles and Moss to cover the top. Then Arlie built a fire near the shelter. We felt like we were in hog heaven (a southern term). Then Dave and I tied our hammocks between some trees and it was absolutely wonderful. This is almost as good as home. About that time Max comes over and lays down under my hammock. So much for the sweet smell of home.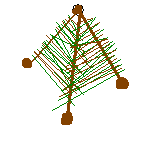 It is Happy Hour and everyone is enjoying our shelter as darkness falls. For some reason everyone is acting like Claria Barkley (I think that is her name. The lady from the Wendy's "Where's the Beef commercial". They are all saying "I've fallen and I can't get up.
It took us a day and a half to climb the mountain and only a hour and a half to come down. Put, we all look back on this hiking trip with a since of accomplishment. We built a cool shelter and each of use believe that we built is so good that it is still standing today. I hope you believe that too.