Pictures and Stories from
1990
Wilson Creek Gorge, NC.
Jan 12 and 13 1990
As we will find out later this is our last year that we will be able to camp on the river. After this year the State Park Rangers will close all camping along the river up to the Steel Bridge.
This weekend's story actually starts one weekend earlier. You will have to read the Sunkin Jeep Story
After the week I have been through getting up here to the mountains is just wonderful. This time there are Nine Happy Campers. Super Dave, Arlie, Bill Abel, Harold, Bubba, Alex Brown, Raymond, Lee and myself. Let me first say the Lee is our Fireman. But Alex raises cain if we even try to take a 5 foot piece of wood and burn it in half. That is not the Boy Scout way and he will tell you that in a heartbeat.
It seems that these trips get bigger and bigger each year. Or these guys just wanted to see were I buried the Jeep.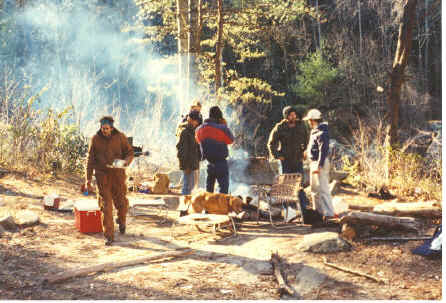 On our first night up here, eight of us did a night hike up to the top of Little Lost Cove Cliffs. Sometime real early Bill could not stay awake anymore and went to bed with every stitch of his clothes on. Over the years I will teach the guys that to stay warm you have to remove all your clothes before you get in the sleeping bag. Anyway, I am digressing again. We all pilled up in my old van about 12:00 at night and headed for the cliffs. The moon was out and it was just a fantastic evening. The temperature was around 30 with winds whipping around us. The next morning when we were talking about what we had seen Bill could not figure out what was going on because he thought that we had all gone to bed too. In fact on Saturday when we were talking about the cliffs he thought we were all on the same drug and had the same hallucination.
During the day on Saturday we did the loop trail that took us to Upper Harper Creek falls and to the Cliffs again.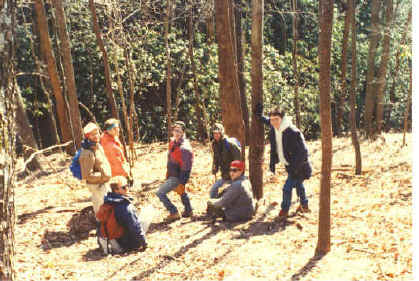 On Saturday night Bill said that he was going to put everyone everyone to bed with another one of his Indian Chief stories. I don't think that he lasted very long into the night.
At times Camp can look pretty messy. This is the mess outside of Raymond's tent.

We made a second trip in 1990 to a place that has become known at Bubba's Slide. We fought the rain on Saturday night with our Lean too. Go to his page to read the stories and see the pictures.