Pictures and Stories from
2005
Wilson Creek Gorge, NC.
A New Campsite just down from the Mark Martin Base Camp
I don't have many excuses for the delay in getting the 2005 pages up on the website. But I can think of a few and the only one that will mean anything to any of you is that this is probably to hardest year to do. With the lost of our great friend and one of my heroes I have sort of just dragged this one out. Many people I know have been waiting for our remarks on this weekend and not one has hounded me for them. Thank you. Mark was the best. I can thank of may stories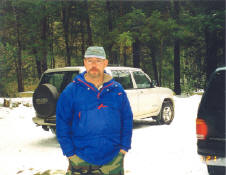 to tell and many experiences that we had together. Many laughs and a few cries, but I think I will save them and let you the reader enjoy the experiences we had on this weekend with his wife Christi along with Mark's son Brandon and his daughter Misty and the many friends that came from Marks home town. This story, filled with both laughter and tears may get a little long winded but that is ok. If you, the reader, get tired of reading and think that I am just rambling, I am.
This part of the story really begins on Jan 21 1995. Mark Martin lead this group of Manly Men to our new campsite at the end of the "dead-end' road. This has become our favorite spot for the Annual Manly Man Winter Camping trip. We have been there almost every year since the winter of 1995. Mark has been on most of those winter camping trips despite work or the battles that he faced with Hepatitis. I remember one year he was on the Chemo shots and he was not going to miss the trip no matter what. He came up on Friday night, took his shot and remained in his vehicle until sometime on Saturday. On that night we had what we thought was the greatest ceremony when we brought a Corry from a Jr. Elder to and Elder. That was in 2002 and you can read the story on that one if you like. I probable did not dwell on that aspect of the weekend because Mark would not have wanted me to. But know he his gone and he can't stop me so I tell you this to let you know what kind of man he was. He enjoyed the Annual Manly Man Winter Camping Trip very much. But alas I digress so let me move one. We have had another ceremony since then and that story is what I and you the reader are about to embark on.
It all starts on that fateful day June 4th I received a call from Mark's good friend and AMMWCT Jr. Elder Greg Price. Mark had been killed in a motorcycle accident on the Blue Ridge Parkway on June 2, 2004. He had been attending a sales meeting for Cisco at a resort in the Virginia mountains when they got an afternoon free to enjoy the mountains. Mark and two other friends from Cisco went out on their motorcycles to enjoy the mountains.
My story moves forward a couple of months after the tragic accident when I received a call from Christi, Mark's wife. We talked for a while about the difficulties of trying to maintain life after losing a loved one. Christi had been dealing with so many challenges during this time that it was just awful. She had been caring for her mother and her best friend Vicky had also been sick. She then proposed a surprising questions. If you have read our Tribal Law then you know that women are not allowed on the Winter Camping Trip. She had asked for a reprieve of that portion of the Law to allow her to come up and join the rest of the group on our next winter camping trip along with her family and some of her's and Mark's closets friends. She was hoping by then that she had the strength to distribute Mark's ashes at the site that he loved so much. From that point forward all of our plans for the 2005 Annual Manly Man Winter Camping Trip revolved around her visit and how we could best remember Mark and make this a special weekend for Christi, Brandon, Misty and Marks visiting friends. This is where our weekend diary begins first through the eyes of Raymond Lewis, known to some as Ralph Boone.
Friday January 22, 2005
Gentlemen, this is my last year ........ NOT!! ( He says that every year ). We arrived Thursday afternoon at our new campsite. Philip and Richard (his sons) are with me. We are at a new site about a mile from the Mark Martin Base Camp because Hurricane Frances dumped so much rain on this area that is wiped out many trails and the road that leads to our normal campsite. This new site is ok, but not the same. We had just settled in around the campsite and decided that anyone that sees a set of headlights will holler out "LIGHTS" this to warn everyone in the camp. It did not take long for our first visitor. The forest officer walks up and Jim blurts out "What's your name?" Wade was the reply. He immediately came back with is that Officer Wade Keener? Needless to say he was taken back a little by this. Jim told him that we remembered him from the previous year. He wanted to know if that was good or bad. Bad! He started looking around for something to get us on. He could not so he took Richard and Phillip and did a breathalyzer of them. He wrote a $100 ticket up for Richard because he blew a .02. Officer Keener is such a jerk.
Saturday Morning.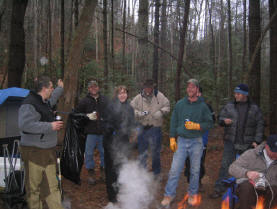 We are know waiting for Mark's family to arrive. We expect them around 1:00 today. It has started a light freezing rain. I hope this will know keep them away. The Abel's are cooking and grumbling, Harold is babbling, Bubba & Arlie ... well... just Bubba and Arlie and Jimmy is already getting in to his 'Julie the Cruise Director Mode'. He appears to be spinning like a top (I am not - Jim).
I love these guys, I love this campout. I hope we can come long enough to see 25 more.
Raymond Lewis
As I am writing this section in our Camping diary it is snowing up here in Wilson Creek. We are awaiting the arrival of Christi and all of our special guest. Upon their arrival everyone started to introduce themselves and we set in to getting to know one another. The weather continued to deteriorate and it was decided that we should start our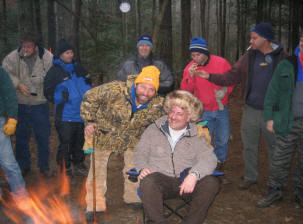 adventure to the Mark Martin Base camp. We had about a mile hike ahead of us. The road was slick and I have to hand it to Vicky and many of the others they were truly Happy Campers for a day. As we made our way along the hilly and twisting road many times we were in small groups helping one another along this journey for a final resting ground for Mark's remains. Many of us were honored to be allowed to carry Mark's remains through this pristine portion of Pisgah National Forest. Once we were about 100 yards from the site we came upon the reason that the whole road had been closed. There was a giant ravine that had been washed away by hurricane Frances. It took a little doing before we were able to get across. Many of us carried tools for what was needed in the moments ahead.
Lee had made a wooded plaque that said "Mark Martin Base camp" and we had decided to mount that in the trees high enough so that no one would bother it or for the most part that it would be difficult to get to by anyone. Lee and Morris shimmed up the tree about 20' to hang the plaque. We took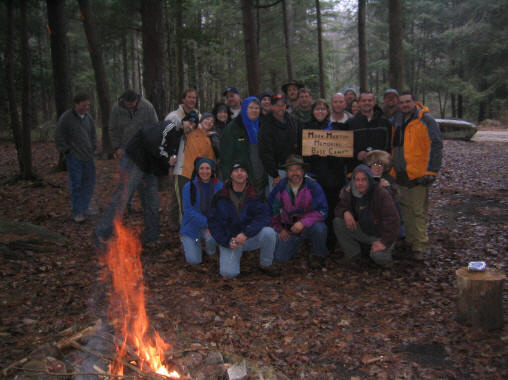 time to show Christi, Brandon and Misty around the campsite. We showed them Mark's favorite spot to pitch his tent. We were smart enough in the freezing rain to get a fire going to just to help set the tone for this part of the ceremony. Everyone got in a big circle and we shared a few stories about Mark. It was also at this time that we all toasted Mark and joined in on a ceremonial smoke for Mark. It was at this point that I felt a little awkward. I instructed those that were comfortable with it to just reach in and pull out a handful of Mark's remains. In the silence of the freezing rain, the crackling fire each person stepped forward and retrieved a handful and each one of us headed in a different direction. Some to the creek, some to his campsite, others to the Elders campsite and yet others to spread his ashes in the far corners of the Base camp. It was a very sober and unforgettable moment. One that this individual will never forget. Each one of the Happy campers on this adventure was so honored to be able to participate in the spreading of Mark's remains.
Arlie had made a brass plaque that we wanted to attach to to a rock overlooking the campsite.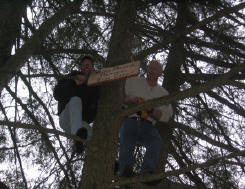 I don't believe that in all of our years I had ever paid any attention to what rocks may be on the mountain side overlooking our campsite. Christi found the perfect one and we all climbed the hill and with the help of a nail gun we attached the memorial plaque on the rock that overlooks the Mark Martin Base camp. We also left a few of his remains around the plaque. If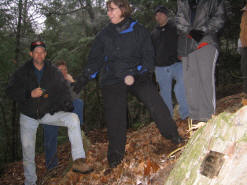 anyone ventures out to find this area after reading this I do hope that you will write us via e-mail and share with us your experience into the part of Wilson Creek. Then it was time for our hike back to our current campsite.
A couple of years ago Mark brought a new friend along with an old Happy Camper on one of our trips. I believe the years was 2000. Ken Massingaleand Dan Sweeny. Read the story but you will find that they a decided that because of the snow that they all wanted to go home. Well all of the Elders decided that when they show up again that they will have to wear a dress to be get back in good graces. Well they showed up this year. We never did get Mark in a dress for that and this year was payback.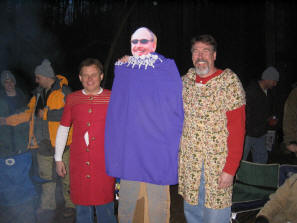 I stopped at the local Goodwill and picked up a couple of large dresses for the evening. Cameron and his girls made a life size cut-out of Mark and we had a lift size picture of his face on the cut out. Ken and Dan both were made to put a their dress on and come parade around the campfire for everyone to laugh at. We also had a dress on Mark's cut out. This defiantly lighten the atmosphere for the evening. Ken and Dan were great sports about the whole thing. I'm sure that Dan's wife can't wait to see the pictures.
In the months leading up to this years trip Jeff Godkin had prepared this years apperal. We had a T-shirt along with toboggans that were embroidered. On the back of the T-shirt were a pair of lone boots on a box "In memory of Mark Martin". The T-shirts were a hit and everyone wanted one. We did not have one left at the end.
Bill and those that stayed around the campfire cooking and in our absents had a roaring fire for everyone when we got back.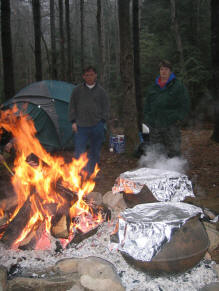 Everyone spent a little more time getting to know one another. Buck, one of Mark's best friends from childhood stayed at the camp while the others were on our adventure. He is a linesman for one of the power companies in the Gastonia area. Buck is a burly tough kind of guy that shares a love of motorcycles with Mark. He as a great heart and loved his friend Mark. This description of Buck will be important to our readers as I describe events as they unfold later in the evening.
For supper Bill had created two huge pots of stew, One was a chicken stew and the other Brunswick stew. Both of these were served in bread bowls. Needless to say everyone was impressed with the food on the Manly Man Trip. After dinner it was time to get serious again. We had light about 40 Tiki torches around the camp to help give the area a glow all it's own. We had brought back one container of Mark's Ashes to the campfire. It was time to bring these out. Christy asked Buck if he would do the honors of spreading the last of Mark's remains. As Buck circled our huge fire, he broke everyone of our hearts as he spoke to his buddy Mark and distributed the last of Mark's ashes with so much emotions that we were all taken in by him. Buck really does miss his buddy. Through the years Raymond had collected ashes from everyone of our winter camping trips. It was time for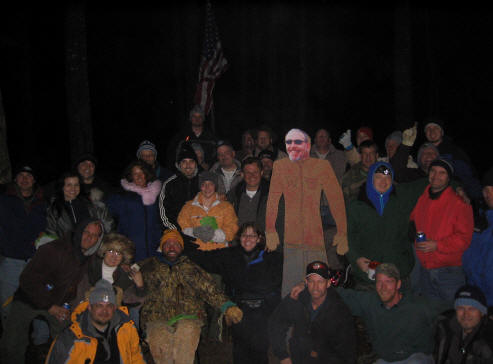 him to add ashes from our previous trips to this trip. In the past this has always been a quite thing that Ray does but this time we wanted to show how we tied this years trip to years of winter camping.
For the entire weekend we had flown and American Flag over our camp. We had made a wonderful flag pole that was fashioned in an outdoor manner. This flag has served many years on other camping trips and was tattered and due for retirement. This was the first time ever that we retired our Flag on the Winter Camping trip. This added a very quite and solemn moment to the evenings as our flag joined the ashes of our previous campfires and those of our friend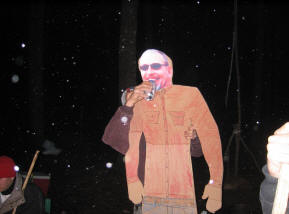 Marshal 'Mark' Grier Martin.